A Common Target for a Sustainable Future
The Building Energy Challenge (BEC) is a friendly, stimulating competition that will take place over 4 years. The goal is to reduce energy consumption and greenhouse gas emissions (GHG) in commercial, institutional and multi-residential buildings across Quebec through COLLABORATION, SHARING KNOWLEDGE, EDUCATION and INNOVATION.
It is aimed at the owners and managers of commercial buildings and tenants interested in implementing responsible management practices to improve energy performance now and over the long term.

It is free of charge and open to all eligible buildings in the province, whether members or not of BOMA Quebec.
Did you know?
If 15% of commercial and institutional building in Quebec reduced energy consumption by 10 %, that would mean a reduction of approximately 2.45 million GJ of energy and 60,000 tons of CO2 per year, or roughly 12,000 fewer cars on the road.
THREE LEVELS OF RECOGNITION
over 4 Years.
The Building Energy Challenge consists of several performance measures and award categories designed to encourage cooperation, excellence and sustained commitment.
GHG TARGET
This is the very foundation of the competition. By 2021, the target for all participants will be to reduce greenhouse gas emissions in their buildings by a minimum of 10% below the level it was at the time of registration for the competition. In 2021, GHG levels will be compared to the preceding yearin order to those of the first year of registration. Winners will be determined according to the extent of GHG reduction (10 to 14.9%, 15 to 19.9% and 20% +).
IMPROVED ENERGY
PERFORMANCE
In this category, the percentage decrease in energy consumed in buildings will be compared to the preceding year in order to identify those that reduced their energy consumption in the final year. In this aspect of the competition, building categories will be determined by use, surface area and similar levels of energy consumption, and buildings will compete against each other. Winners are buildings that have reduced energy consumption the most in their respective categories. The first recognitions in this category will be awarded at the 2020 Award Ceremony.
COLLABORATION
For building managers and tenants who participate and who demonstrate ongoing collaboration, the criteria evaluated will be collaborative efforts, commitment, positive impacts and the progressive evolution of their initiatives.
Eligible Buildings
Office buildings
Retail stores
School buildings
Health care buildings
Mixed-use buildings
Multi-residential buildings
Universal buildings
An awards ceremony will be organized every year to honour the winners.
The first such event will take place in spring 2019..
A grand gala will take place in 2022 to pay tribute to the winning buildings.
HOW DOES IT WORK?
To find out more, download the following documents.
PARTICIPANT GUIDE
Download PDF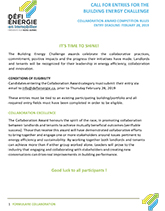 COLLABORATION AWARD FORM
Download PDF

The Building Energy Challenge uses the ENERGY STAR® Portfolio Manager (ESPM) platform to measure and monitor the energy performance of buildings. That approach also allows buildings to compare their progress from one year to the next. The Portfolio Manager (available online) is a tool that is free and easy to grasp, allowing users to enter data and measure and monitor consumption of electricity, natural gas and water, as well as greenhouse gas emissions.
Show leadership. Register your building now!