FOUR YEARS AFTER LAUNCHING THE FIRST EDITION OF THE BEC, THE BUILDING ENERGY CHALLENGE REVEALS THE WINNERS OF THIS FRIENDLY COMPETITION AIMED AT IMPROVING THE ENERGY PERFORMANCE OF COMMERCIAL BUILDINGS ACROSS QUEBEC
Montreal, June 8, 2022 –
At yesterday's eagerly awaited gala event, BOMA Quebec celebrated the winners of the Building Energy Challenge (BEC). Launched in 2018, this innovative and convivial competition is focused on reducing energy consumption and greenhouse gas emissions (GHG) in commercial, institutional and multi-residential buildings across Quebec. More than 50 firms in diverse sectors of the economy took part, for a total of 214 buildings in 47 Quebec municipalities registered for the competition. 147 winners were named in one or more of the 4 categories of the competition: the Resilience Award (1 winner), the Supplier Mobilization Award (1 winner), the Improved Energy Performance Award (20 winners) and the GHG Target Achievement Award (125 winners).
The 2022 BEC Gala was held at the Salon Richmond in downtown Montreal. More than 200 key players in the commercial real estate industry attended the event, which was hosted with brio by Pierre-Yves Lord.
Tangible results
The BEC is aimed at building owners, managers and tenants eager to implement responsible energy management practices and reduce GHG emissions. Back in 2018, sharing energy data with a third party was far from common practice in the industry. Since the launch of the BEC, however, data disclosure reports on energy consumption have allowed participants to accurately compare their performance with that of their peers, and the results speak for themselves. 
In terms of energy, in 4 years the participants reduced their energy consumption by more than 17%, equivalent to the annual energy consumption of nearly 9,000 homes. 
As regards reducing GHG emissions, in 4 years the 214 participants reduced emissions by an average of 24%, which is 14 percentage points above the initial objective of 10%! Of that number, 130 participants reduced emissions by more than 10%, 107 by more than 15% and 89 participants managed to break the 20% barrier. That's like avoiding driving 74 million miles in a car.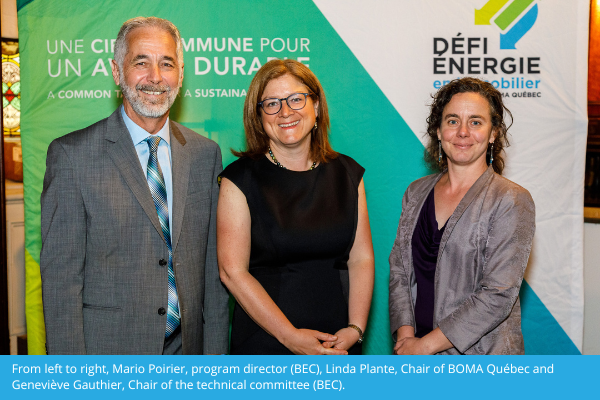 Several performance measures and awards categories were established as part of the BEC. They are designed to encourage cooperation, excellence and perseverance among participants. The winners in each of these categories are as follows:
SUPPLIERS-MOBILIZATION AWARD
The award pays tribute to energy professionals who support participants in their ongoing efforts to reduce energy consumption and GHG emissions by providing state-of-the-art advice and innovative solutions.
– Krome Services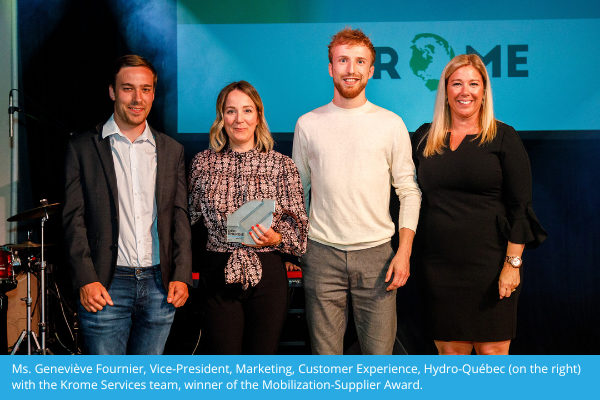 RESILIENCE AWARD
In recognition of the participants who were able to ensure sound operational management of their buildings and implement innovative solutions during the COVID-19 pandemic.
– Manulife Investment Management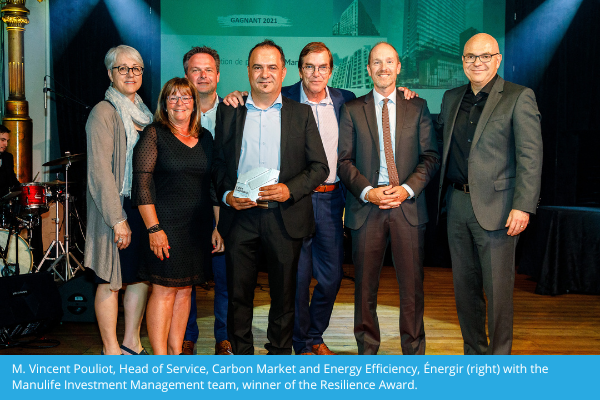 IMPROVED ENERGY PERFORMANCE AWARD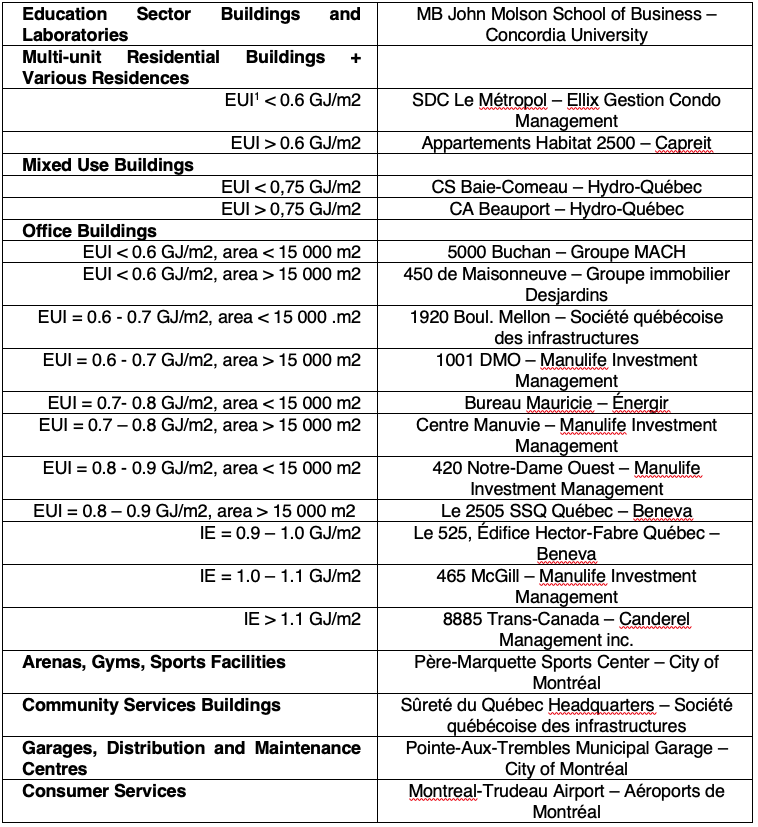 [1] EUI = Energy Use Intensity in gigajoules per square metre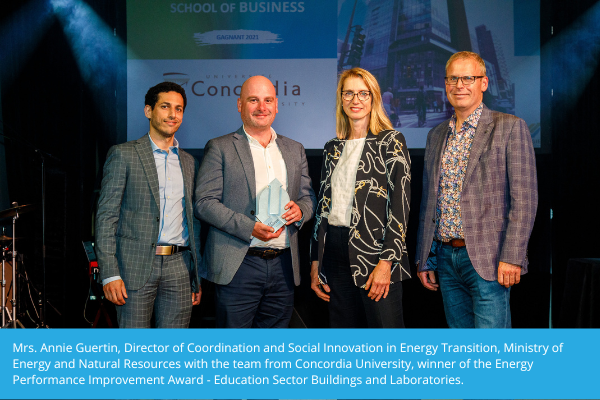 GHG TARGET ACHIEVEMENT Award
A total of 125 participants achieved a GHG reduction rate of 10%, a result far beyond our expectations. It shows that we can be even more ambitious as regards targets for the years to come. Winners were selected in 5 categories: Silver, Gold, Platinum, Diamond and Prestige Diamond, the latter award given to 5 buildings that achieved an exceptional reduction rate of more than 90% over the 4-year period!
PRESTIGE DIAMOND Category– Reduction Rate of over 90% 
– Le 525, Édifice Hector-Fabre, Beneva
– Le Tadoussac Appartements, Capreit
– Le Saguenay Appartements, Capreit
– Palais de justice de Maniwaki, Société québécoise des infrastructures
– Édifice Marcelle-Gauvreau, Société québécoise des infrastructures
The full list of GHG Target Achievement Award winners is available here.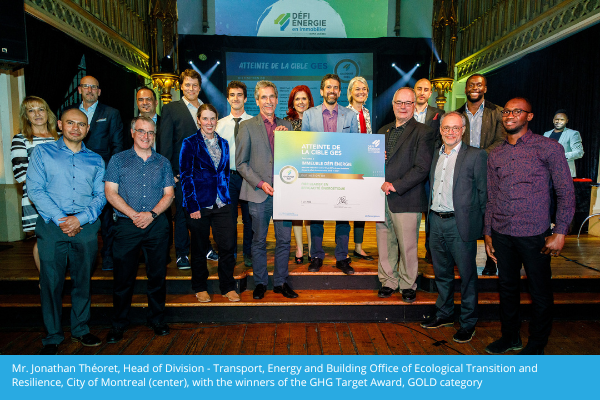 AMAZING PARTNERS
The Building Energy Challenge is an initiative of BOMA Quebec and its loyal partners: the City of Montreal and the Quebec Ministry of Energy and Natural Resources (founding partners), Hydro-Québec and Énergir (major partners), as well as Sofiac (associate partner). The gala was sponsored by Akonovia, cq3e, Éconoler and Hydro-Quebec's subsidiary Hilo.
"We are thrilled with the response from the real estate industry to this first edition of the BEC. Our ambition was to reduce energy consumption by 10% over four years by getting some 100 buildings to take part in the first year. Yet we surpassed our targets, and no less than 214 buildings registered for the competition! We are also very pleased to note that participants made a conscious choice to prioritize energy performance and GHG emission reductions in their buildings, despite the context of the Covid pandemic. Congratulations to all participants! Thanks to everyone's efforts, little by little mentalities and practices are evolving, and the real estate sector is changing for the better. The entire industry has learned much and made great strides. Our sincere thanks to all our partners, including the City of Montreal, the Quebec Ministry of Energy and Natural Resources, Hydro-Québec, Énergir and Sofiac. Thanks to them, the Building Energy Challenge will be able to pursue its important mission." Linda Plante, president of BOMA Quebec
"The City of Montreal is proud to have launched, with BOMA Québec, the Building Energy Challenge. This initiative has led to a significant mobilization of the community. Indeed, since 2018, several hundred buildings have been targeted by their owners to improve their energy performance. The goal of the Challenge was to reduce GHG emissions by 10% in 4 years and I am pleased to see that the objective has been largely exceeded, which demonstrates the willingness of the real estate sector to do its part in reducing GHG emissions. As we all know, the exit from fossil fuels represents a major challenge. Since the building sector accounts for nearly 30% of total emissions, we must continue and accelerate our joint efforts. At the Climate Summit on May 3, the City announced its Roadmap to Zero Emissions Buildings by 2040. In addition, achieving the goals of the Climate Plan requires a 50% reduction in emissions from the building sector by 2030. I would like to thank our partners and especially BOMA Québec for its leadership. The Building Energy Challenge is proof that positive results can be achieved through this type of collaboration and the City is looking forward to working more than ever with the industry to achieve Montreal's greenhouse gas reduction goals." Valérie Plante, Mayor of Montréal
"Since its beginning, we have been very proud to support the BEC, a promising initiative to accelerate Québec's energy transition. It is by rallying as many sectors and stakeholders as possible that we will be able to meet the targets we have set to tackle climate change. This challenge also represents another step towards a more energy-efficient building stock in Québec. I would like to sincerely thank all the participants and congratulate the winners on their outstanding contribution to building a more energy-efficient Québec. " Jonatan Julien, Minister of Energy and Natural Resources
"Hydro-Québec is delighted to be part of the celebrations in honour of BOMA Quebec's Building Energy Challenge competition.  I am pleased that the most energy efficient buildings are finally getting recognition. Our thanks to all participants. We urge you to continue your efforts toward decarbonization. We have been a proud supporter of the BEC since its inception. We would like to highlight the participants' contribution toward energy transition in buildings, thereby consuming energy in a better, more efficient manner. Hydro-Québec will continue to be your business partner. Our teams are here to support and advise you, to provide assistance so that your efforts to promote a sustainable, efficient and profitable environment prove successful. Hydro-Québec is putting its energy into powering Quebec businesses." Geneviève Fournier, vice-president, Marketing and Client Experience
"Énergir is very proud to recognize the initiatives and ingenuity of the organizations that participated in the challenge. As a result of their efforts, the winners have become role models in energy efficiency and GHG emissions reduction. In four years, the participants have contributed to a reduction of more than 17% in their energy consumption, which is equivalent to the annual consumption of nearly 9,000 homes. This result is a tangible demonstration of the potential for reducing GHG emissions, made possible through the collaboration of several BOMA Québec partners, of which Énergir is proud to be a part." Vincent Pouliot, Senior Director Carbon Markets and Energy Efficiency, Énergir
About BOMA Quebec – www.boma-quebec.org
BOMA Quebec is the largest association of commercial property owners and managers in the province, and its members own or manage 85% of Class A office buildings in Quebec. A leader in the sector since its inception in 1927, BOMA Quebec has developed a reputation for excellence in property management and for increasing the value of real estate assets. The Association encourages effective, efficient and responsible building management,notably with BOMA BEST®, its avant-garde environmental certification program, the BOMA Awards and the Building Energy Challenge.
About Hydro-Québec – www.hydroquebec.com
Hydro-Québec provides, at competitive prices, reliable electricity and quality services tailored to its customers' needs. By harnessing clean, renewable energy sources, Hydro-Québec contributes to Quebec's collective wealth while playing a central role in building a green, sustainable economy. By harnessing clean, renewable energy sources, Hydro-Québec contributes to Quebec's collective wealth while playing a central role in building a green, sustainable economy. Recognized as a leader in hydroelectricity and large power systems, Hydro-Québec helps its neighbours reduce their carbon footprint by enhancing specific characteristics of its network and features. Convinced that it is through innovation that everything becomes possible, Hydro-Québec designs avant-garde solutions and shares its expertise to help decarbonize the economy and improve energy consumption.
About Énergir – www.energir.com
Énergir Inc. mainly holds an investment of approximately 71% in Énergir, L.P., for which it acts as the General Partner and a financing vehicle. With more than $9 billion in assets, Énergir, L.P. is a diversified energy business whose mission is to meet the energy needs of approximately 535,000 customers and the communities it serves, in Quebec and in Vermont, in an increasingly sustainable way. Énergir, L.P. is the largest natural gas distribution company in Quebec; through its joint ventures, it also generates electricity from wind power. And through its subsidiaries and other investments, Énergir, L.P. has a presence in the United States, where it generates electricity from hydraulic, wind, and solar sources; it is also the largest electricity distributor and the sole natural gas distributor in the State of Vermont. Énergir, L.P. values energy efficiency and invests its resources and continues its efforts in innovative energy projects such as renewable natural gas and liquefied and compressed natural gas. Through its subsidiaries, it also provides a variety of energy services. Énergir, L.P. strives to become the partner of choice for those seeking a better energy future.
– 30 –
Source :
BOMA Québec   |   boma-quebec.org
Défi énergie en immobilier   |   defienergie.ca