Bentall Kennedy's (now BentallGreenOak) Tenant Commitment Program at World Exchange Plaza
The World Exchange Plaza (now owned by QuadReal), with a total surface area of 65,032 square meters (m2), is located in downtown Ottawa. The tenant commitment program was established in 2011. It consisted of meeting with the  tenants' advisory board to determine the program objectives and the people in charge of implementing them, and also meeting the tenants one-on-one.
Two operational changes were made following these encounters. The practice of automatically turning on the lights at 6 a.m. was abandoned in favour of having the tenants manually turn on the lights themselves. The second change affected the operating hours for the HVAC system on Saturdays, which previously had run automatically from 8 a.m. to 1 p.m. From now on it will be activated at the request of building occupants.
The World Exchange Plaza board financed the program, a low-cost investment of $2500. The project required, however, that the building management team devote several hours bringing it up to speed.
Potential savings generated by the project amount to $52,500 per year or 525,000 kWh/year, plus reducing CO2e emissions by 68.23 tonnes per year.
Lighting Control System at Bentall Kennedy (now BentallGreenOak) and RBC
Bentall Kennedy and RBC joined forces when renewing their leases to implement a lighting control system for their 76,000 m2 building. The system monitors and controls each light bulb on the premises, adjusting light intensity based on occupancy, available daylight and operating hours. In addition, a training course was given to everyone involved in building operations.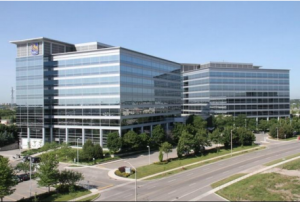 Project participants are bcIMC (building owner), Bentall Kennedy (building manager), CBRE (general services provider) and RBC (tenant). The project was financed by bcIMC. The business plan was reinforced by grants from the local electricity provider, and by projected savings.
Before the project got underway, energy consumed by the lighting system was 6,284,385 kWh/year. Once the project was operational energy consumption diminished by half, i.e. to 3,142,192 kWh/year, which means a reduction in CO2e emissions of 2217 tonnes/year. One of the reasons it was successful is the fact that implementing the new system had no effect on the activities of building occupants.
Energy Platform for Brookfield Office Properties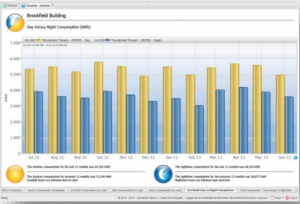 In collaboration with Schneider Electric, Brookfield Office Properties developed an online energy platform that presents in comprehensive and simple fashion the key parameters of the building to Brookfield's tenants, aspects such as equipment, operating hours, occupants' activities and behaviours, etc. Each tenant can access this information by clicking on his or her account.
The project was financed by Brookfield's Energy and Environment budget. The program does not generate direct savings. Its purpose is to provide a tool that encourages tenants to reduce energy consumption by showing relevant data that help stimulate discussions.
TDC Green Portal for Tenants at Toronto-Dominion Centre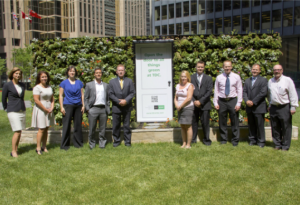 Cadillac Fairview Centre's TDC Green Portal was developed for tenants at the Toronto-Dominion Centre, but can also be used by the general public.
The portal allows tenants and the building management team to monitor and compare their daily, monthly and yearly energy consumption in real time, and to also view the energy consumption of each building on the property. It provides tenants with access to advice and best practices.
Change Behaviour through Collaboration and Education
All submitted buildings have developed a tenant communications program or strategy, as well as a platform for monitoring energy consumption. Building managers registered in the Building Energy Challenge (BEC) can refer to examples provided and thus encourage tenants to create their own Energy Star Portfolio Manager (ESPM) accounts. They will then be able to monitor their energy consumption and take advantage of the resources offered by the BEC for adopting better long-term energy efficiency measures.