Two months have passed since the 1st Building Energy Challenge awards gala, which was a big success attended by many BEC participants. Buildings of all sorts of sizes and categories took part in the competition. That's fantastic!
Many participants have big ambitions, and there is real commitment from a growing number of industry players for better management of building energy performance. Backed by a dynamic association that is truly REPRESENTATIVE of its milieu, the BEC has catalyzed and energized your dedication and commitment. Property managers now have an opportunity to no longer be in individual isolation. They can now be heard and get the support they need to improve their energy performance, and to reach their objectives as they compete with each other in a friendly contest.
To keep the project alive means that we must now deliver, each one of us. We can enjoy taking part, and also have the satisfaction of doing the work. We can set an example of what the industry can accomplish by working together. Let's seize this opportunity.
And now back to basics. How is the Energy Star Portfolio Manager (ESPM) working for your buildings?
Measuring and monitoring energy use is the first step.
Have you identified your resource for entering data every month?
Are you experiencing any difficulty with that task?
Are you surprised by your GJ/m2 results? That's where it all starts. If you think there's been a mistake, please let us know. Our team can help you clarify the matter.
Have you started measuring your progress, illustrating your performance and managing irregularities or monthly discrepancies?
The BEC is hard at work and we are here to help. Contact us if you run into problems. We now have an in-house resource, Mélanie Vigneault, a master of the ESPM, available to help guide you through the software. She will be contacting some of you shortly to point out irregularities in data entry. Mélanie Vigneault, technical assistance for Energy Star, 514-282-3829 ext. 2045, mvigneault@boma-quebec.org
Starting this fall the BEC will be organizing ESPM training sessions. We want to make users more familiar with the software by showing how it can help with your budgets, follow-up, property portfolio management, etc. Read our newsletters for more info. You are not alone.
News in Brief:
Following the awards evening, some participants left their banners behind. We will return them to you, and drop in to say hello.
You are no doubt aware that the government wants to take steps to improve the management of the Green Fund, and that Transition Énergétique is involved. Rest assured, for the moment nothing has changed as regards the BEC. We will keep you informed.
The BEC has established a technical committee, which recently held its first meeting. It will focus on matters such as replacing rooftop HVAC units, preparing energy budgets and providing support for small buildings, as well as training. You will receive reports on their efforts this fall.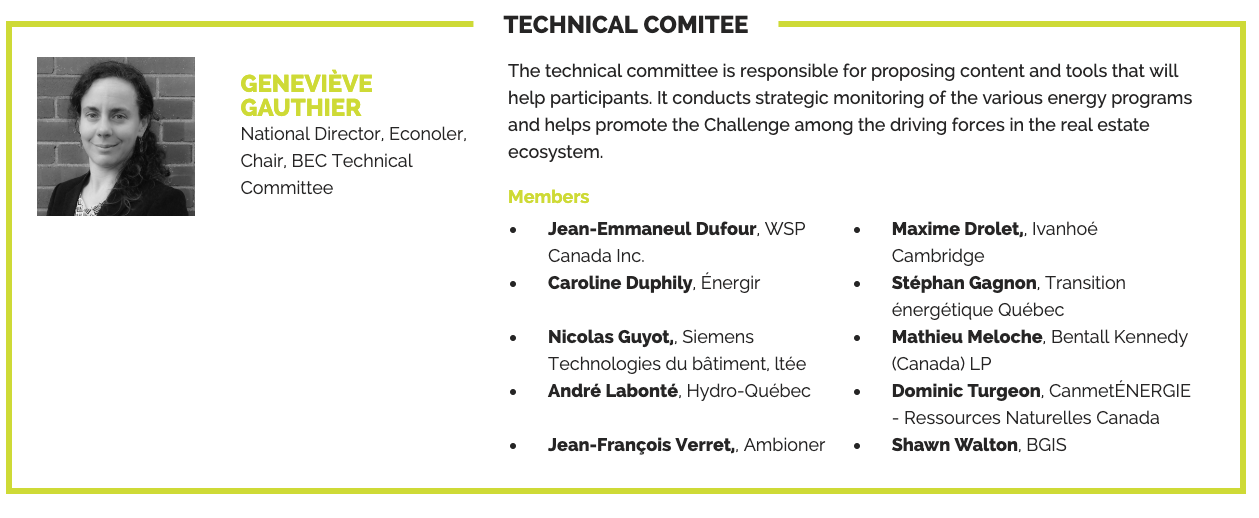 I invite you to contribute to this new column. Let me know about your experiences, successes, questions, obstacles and ongoing projects. My job is to listen and to defend energy management interests within our industry.
The BEC is designed to encourage you in your efforts. Together we can take small steps toward impressive results.
Enjoy your summer vacation!
Mario Poirier
Program Director