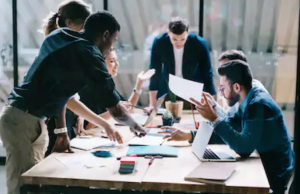 When it comes to implementing energy efficiency measures, the benefits of close collaboration between a building owner and his or her tenants are many. Optimal energy efficiency gains can be achieved by working together toward a shared objective. That is why we encourage owners and tenants to participate in the BEC by jointly singing up for the COLLABORATION category of the challenge.
Keep in mind that the BEC approach focuses on collaboration, education, innovation and sharing knowledge in the commercial, institutional and multi-residential real estate sectors so as to reduce energy consumption and greenhouse gas emissions in buildings across Quebec.
Benefits of owner-tenant collaboration:
Significant reduction in building operational costs;
Greater economic resilience for owners and tenants;
Higher occupancy rate;
Shared knowledge with a clear, common vision of the measures to adopt for a robust and sustainable energy efficiency plan;
Implementation of projects that have a positive environmental impact;
Development of a corporate culture that is attractive, positive and based on collaboration and innovation.

The BEC is a unique opportunity to work together. The advantages of taking part in the Collaboration category include:
Positive internal and external positioning for your organization, with your firm recognized for leadership within the industry and the business milieu;
Higher profile for your firm across Quebec for top performance in reaching BEC objectives;
Eligibility for the Collaboration Award as well as the Energy Performance and GHG Target awards;
Access to training material via the Energy Star Portfolio Manager (ESPM) platform and targeted resources;
Skills developed in using tools for sharing energy savings between owners and tenants;
Access to advice and webinars from BEC for implementing energy efficiency measures;
Development of a network of building professionals and thus access to information about grants and subsidies for energy efficiency projects;
A lot of information and resources are available online via BEC, including the Participant's Guide and the Collaboration form.
Upcoming webinar: Energy Star will present the Engaging Commercial Tenants in Energy Efficiency webinar on December 5, 2019.
It will focus on the methods available to get tenants actively involved in your energy efficiency strategy, as well as testimonials from people who has successfully established collaboration projects. Consult the webinar page of the BEC website for more information.