With the summer over, a busy autumn lies ahead. I hope your vacation was an energizing experience, because Year 2 of the Building Energy Challenge is now going full speed ahead.
This summer the team took a look back at Year 1 and made plans for the coming months. We want to raise the current number of 157 buildings registered in the BEC to 257 in Year 2. Given growing interest in the competition, we're convinced that we will reach that goal.
The response has been  impressive. It is becoming increasingly apparent that this competition is a catalyst for stimulating greater efforts at energy efficiency. The BEC has placed you, the active participants in the real estate community, at the very centre of endeavours to focus services and resources on energy efficiency.
Your participation and your commitment to optimizing energy management in your buildings have created within our sector a real obligation to understand and support your efforts.


BEC News! – Mobilization Award – Suppliers
A new award for suppliers will be launched soon. As of this fall, energy firms and professionals can also participate in the Building Energy Challenge. We want to encourage them to promote their expertise and their efforts to support energy transition in commercial buildings across Quebec. The supplier with the greatest number of clients participating in the BEC will win the award. More details at defienergie.ca very soon.
Dynamic Technical Committee
The Technical Committee has been working hard since May generating content for useful, adaptable and accessible energy management that encourages prompt action. You will see more and more articles in our newsletter on that matter in the coming weeks. If you wish to have a particular topic addressed let us know, and we'll get to work finding and publishing the information you require.
A Focus on You and Your Efforts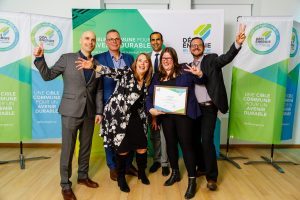 A new communication plan has also been put into place, and you will soon notice its impact. We will be emphasizing BEC participants, shining the spotlight on your fantastic teams and innovative projects, creating a stimulus for recognition and friendly competition.
The coming year will be one of support for your energy efficiency projects. The entire energy sector is actively supporting our approach, and is thus also supporting you.
Energy Star Portfolio Manager, A Useful but Unloved Tool


In my last article I mentioned that you should get back to basics, and I questioned your comfort level as regards working with the Energy Star Portfolio Manager. We chose this tool because it is free of charge, accessible and extensively used for environmental certifications and data sharing. Nonetheless, I realize that it might be a bit cumbersome to use.
Mélanie Vigneault, BOMA Quebec's contact for technical support for Energy Star, is now available to help you in that regard. The software is indeed imposing, and it's easy to get lost in it. To assist you, we have:
Established a close, cooperative relationship with Natural Resources Canada so as to answer your questions about how to use the software.
Evaluated the forms available on ESPM to help you in filling them out.
Identified energy management tools that you can use or generate with personalized reports.
Identified best practices for entering energy consumption data in the software. It's best to use Excel templates, as they are much simpler.
Please contact Mélanie if you have any questions. 514-282-3829 ext. 2045 or [email protected].
Did you know?
Did you know that with Hydro-Québec's smart meters, your energy consumption information is available in real time (up to the day prior to your data access query, in fact)? It is a great tool for management, decision-making and surveillance. Simply register directly from your account. It has great graphics that are very useful. Check it out, and see for yourself.
News in Brief
Make time in your agenda for two dates, October 30 in Montreal and November 5 in Quebec City for a one-day training session on re-commissioning. The session is subsidized by Natural Resources Canada at the behest of BOMA Canada.
A recognition activity will take place in Quebec City as part of the Energy Symposium on September 24. Click here for details.
A new directory of energy sector suppliers will be published this fall on the BEC website. Stay tuned.
That's all for the moment, dear participants and friends. Keep abreast of our important, ongoing efforts and, let me repeat, please contact us if you have any problems or questions. We are always pleased to help.
Enjoy the autumn and good luck in all your pursuits!
Mario Poirier
Program Director